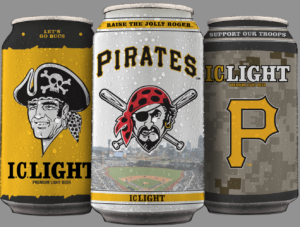 With the Pirates home opener less than 30 days away, fans can do a little pre-season training of their own!
Our client Pittsburgh Brewing Company,  just released the first of three Pittsburgh Pirates-themed I.C. Light Collector Series Beer Cans – the "Retro – Handsome Jolly Roger" can is on sale now!
For more details, click this link to check out our story on NBC affiliate WPXI-TV!
As a 50 percenter of Irish blood and a serial marketing professional, I thought I'd offer you dear reader, my 15 Marketing Lessons of St. Patrick's Day to help you find your little pot 'o gold at the end of a rainbow!
And, I'll offer them quickly because I shouldn't even be working this hard today as I'm 17 days away from – and preparing for – St. Patrick's Day which is one of my many "high holy days" - and there's a Guinness pint with my name of it at my favorite Pittsburgh Irish pub (Riley's Pour House) and it's getting warm! So here you go!
1. Green Marketing Lesson One – Making Money. Always keep money (making it or saving it) front and center of any marketing campaign. If you know anything about the Irish (and I do growing up in a large extended family), the majority have experienced challenging economic times and know the value of a dollar. So, incorporating zero based budgeting into your marketing processes will help you become more creative and help you do a lot more for less. 
2. Green Marketing Lesson Two – Sustainability. These days when you hear brands talk about sustainability, it's related to the environment, but the basic pure definition of sustainability is "the capacity to endure." Using the same color in your marketing communications reinforces your brand, makes your marketing work harder for you and enables your marketing to endure.
3. Green Marketing Lesson Two – Color. Design and color can help you communicate a great deal. Red – hot, stop; Blue – cool. etc., Keep in mind that all colors also come in a great deal of shades so don't be boring and predictable.  Green has about 50 unique shades.
4. Create Multi-Sensory Emotional Appeals (e.g., appeal to people's five senses of sight, sound, touch, taste, smell). In a prior post about, "Marketing with Sound," I discussed the awesome power of sound, but you should also consider all of the ways you can appeal to your customer's five senses. St. Patrick's Day appeals them all with color, strong visuals of parades, people having fun; taste of ethnic foods like corned beef and cabbage and drink (pints of Guinness and shots of Jameson) etc.,
5. Appeal to One's Ethnic Heritage. There's nothing wrong with appealing to people's ethnic heritage – net, different strokes for different folks.  In fact, it's a growing and popular strategy due to our mobile society, immigration, single parent households etc.
Some of this strategy's keys to success include knowing your market well, being aware of unique cultural nuances, being respectful etc.  Disney's Epcot Theme Park's World Showcase is a great example of ethnic marketing, but Denny's Restaurants' old Pancake promotion is not.
6. Be Inclusive with Your Marketing. As much of an Irish heritage appeal the holiday provides, St. Patrick's Day is all-inclusive and welcomes everyone to celebrate – everyone is Irish on St. Patrick's Day!
7. Special Event/Thematic/Celebration/Holiday Marketing. Giving a unique thematic association to your marketing messages makes it easier for your customers to understand you and more immediately recognize you too. Tie-ing in to a major holiday celebration gives your promotion authenticity and a "reason why" you're holding a sales event.

8. Limited Time Appeal. Having a hard date against a campaign creates urgency, excitement and traffic. Pretty obvious statement, but many marketers leave far too many campaigns without a clear end date and a sense of urgent appeal.

9. Spokesperson/figurehead/celebrity/image appeal. Having a Saint as your celebrity figurehead ain't too shabby, but it's the consistency of using the same appealing celebrity with a unique story is what works.
10. Iconic Marketing – Shamrock – brand, sell, profit. Mickey Mouse's Ears, Ronald McDonald's big red shoes, McDonald's Arches and more.
Shamrocks do the same for today's holiday – it's the day's badge of honor and identification. What's your badge ID?
11. Rule of Threes. Legend has it that St. Patrick used the common Shamrock to teach the Celtic Pagans about the unique Holy Trinity of the Father, Son and Holy Spirit – 3 in 1 Godhead.
However, the "rule of three" symbolism in the good man's teaching is relevant today as well because people's minds are noisy and limited. Using the rule of three enables you to get them to remember you and buy-in a presentation or product mix selection. Small, medium, large; gold, silver, bronze; 3 bears; 3 blind mice; 3 Stooges (see more examples/proof here) – trust me – the rule of three rocks.
12. Be Positive. You won't find a more positive group of people that the Irish. Despite all of their "Troubles" who else tells you that you can find a pot 'o gold at the end of a rainbow? At Pittsburgh's St. Patrick's Day Parade this past Saturday, people throughout the day referred to the cold constant rain as nothing more, "a little Irish mist!"

13. Be Nice. You'd be hard pressed to find a nicer bunch of people than the Irish on St. Patrick's Day too.
14. Have fun and don't take yourself so seriously. In this age of "political correctness" the Irish are for the most part a happy and fun bunch and most Irish demeaning jokes bounce of them like water on a duck.
15. Plan Your Luck by Working Hard. In my opinion, "the luck of the Irish" is based on hard work – simple as that. You've probably heard the saying, the harder you work the luckier you get!" Well, its true. The majority of Irish are no strangers to hard work and I believe – all things being equal – people that work harder and smarter than their peers will meet with more profitable success in a shorter period of time.
Got to run, my pint is getting warm.
Slan (Gaelic for "farewell for now")!
I'm so looking forward to tomorrow, December 23 because its the 40th Anniversary Celebration of the Immaculate Reception. I was 10 years old and was listening to the Steelers Raiders football game on the radio (local broadcast was blacked out) and heard the news LIVE!
What a thrilling end to a game that propelled the Steelers to future greatness. In addition, this single play would change a city and would forever be immortalized as the greatest NFL play in history!
Immaculate Reception Marketing Memories
Ranking just as high on my list of favorite Steelers memories, was back in December 1997 when as the Director of Marketing and Sales Operations for Sprint PCS, I came up with an idea to help us more effectively communicate our digital 'call clarity' position.
You guessed correctly – it was also around the same time as the 25th Anniversary of the Immaculate Reception.
To clearly position our new wireless phone service in a hyper competitive wireless phone market, I searched and found a high profile customer (football great Franco Harris) whose testimonial and personal brand matched up perfectly with Brand Sprint.
The marriage between Franco's most famous play in football and Sprint's unique selling proposition of digital call clarity, helped drive favorable awareness, considerable store traffic and effectively communicated our unique product positioning (the first and only digital phone service in the market). And, the timing was perfect.  The 25th anniversary of the Immaculate Reception coincided perfectly with our new product launch.
Testimonials are one of the most effective methods of building brands, and Franco's testimonial helped us to effectively pull together a strong brand building and sales effort.
Our strategy was so on target that Sprint PCS realized record store traffic and sales.
Now 15 years later, I'm proud to say our campaign – like Franco's famous catch – has been immortalized by the NFL Network in its feature film A Football Life – The Immaculate Reception.
Click here to watch the entire video of the Show and be sure to check out the mark at 31:57 to 32:04 to see one of our ads!
Happy Anniversary Franco and thanks for the memories!
P.S.: See Case Study here. Also, many thanks to my boss Doug Cotton for giving the idea a 'thumbs up.!' And to photographer Harry Giglio, designers Kathy Kendra, Mark Power; Mike Cusick Sprint Director of Sales; and Sprint marketing partner Maria D'Abruzzo.
Click here to see a super video treatment of the 40th Anniversary Celebration and marker unveiling of the Immaculate Reception from Steelers.Com

Many brands fail to take advantage building effective public relations into their marketing plans.  If they do, a majority fail to execute.
Take for example press kits to tell your unique story to the media. For as many years as I've been in the marketing profession, I'm still amazed at how many brands don't take the time to tell a good story and package it in a way that excites the media who can then effectively excite the brand's customers.
Here's a great example of how to use an 'old school' press kit to gain media attention and coverage and win an award along the way.
For several years, we've been working with a super brand – Idlewild & SoakZone – the oldest amusement park in Pennsylvania and the third oldest in America.
In our certainly biased opinion, it's one of the best park's in the world for kids and families and it's a grand testament to their hard work that now others feel the same way.
After a few years of being ranked 'Second Best Kid's Park in the World' by the readers of Amusement Today Magazine – second to LEGOLAND – the Park finally burst to the top of the rankings and we wanted to shout from the rooftops its accomplishment in a unique way.
NOTE: In Public Relations and marketing in general, if you don't make a big 'to do' about your brand's news, how do you expect the media or your customers and staff to get excited and amplify your message?
So, recognizing that most media communiques are sent electronically these days, we decided to send an 'old school' press kit by mail. And, we packaged the press kit in a way that guarantees it will get opened and demands immediate interest and attention. In addition, because we needed to send the press kit to quite a few media contacts, cost effectiveness was key for our limited budget.
Take a look at the center of the picture above and see the colorful box with balloons on it? Well, we got that box from the good old U.S. Post Office for about $5.00 and it was big enough to carry a typical folder/press kit, an opening day ticket for our media day invitation, several cool items from the seven themed areas of the Park, our #1 foam finger/hand that was used in broadcast media and a FIJI water bottle that we used to promote the Park's new Wowabunga Family Wave Pool (we stripped off FIJI's advertising and relabled the bottle with the Wave Pool's news).
The total cost for the box, chotchkes and mailing was about $25 per media rep and we got tremendous coverage for a Park that's about a 90 minute drive from Pittsburgh – its closest major market. And, we won recognition from the Pittsburgh Chapter of the Public Relations Society of America.
Don't take for granted the good news and stories that people would love to hear about regarding your company, brand, people and more. And, make sure you package it in such a way to overcome the noise that the media and people get drowned in every day.
Lastly, to paraphrase/quote Seth Godin – if you want people to make 'REMARK' about you do REMARKable things!
And, we're blessed to have such a remarkable client in Idlewild & SoakZone.